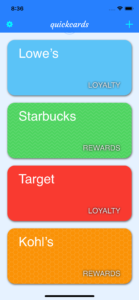 PRIVACY, PRIVACY, PRIVACY!!
Most card organizers transmit and store your information on their servers, creating a potential threat for you. Quickcards maintains your data locally on your device so you are always in control using the built in protections provided by your iPhone.
CONVENIENCE
All of your cards are quickly available in one place, digitally!
SCAN ANY BARCODE OR QR CODE
Make a card for anything that has a barcode or QR code, like reward cards, loyalty cards, gift cards, coupons, and more.
REORDER AND SEARCH CARDS
Quickly find the card you need with search and use drag and drop to put your most used cards on top.